I'm really happy to share with you the very first interview for Jazz Video Lessons! I'm glad that my good friend Roy Assaf agreed to be my guinea pig, we did run into some technical difficulties: it was intended to be a video interview but that didn't quite work... my voice is very low and I tried to improve that but it's not perfect so I apologize. But the content is great. Roy is a great musician from Israel, I met him in Berklee and he's been since leading a successful career based in New York. He is sharing some of his experiences with the Dizzy All Stars, some advices to young players, to musicians who want to come to NYC, we will talk of course about his album Second Row Behind The Painter and how he put the band together and wrote the music, and finally he will answer some of the questions we received from JVL students. I hope you'll enjoy this conversation, feel free to share ideas or questions in the comment section below!
The recording Second Row Behind The Painter is the debut album from the Roy Assaf Trio. The album marks the second recording as bandleader by internationally renowned pianist/composer Roy Assaf. The trio includes Raviv Markovitz on bass and Jake Goldbas on drums. Roy Assaf has performed and toured with jazz greats including the Dizzy Gillespie All Stars, the Mingus Big Band, the Slide Hampton Sextet and the David Sanborn Group.
Second Row Behind The Painter showcases the unique artistic vision of the trio as they strive to create music for both jazz aficionados and audiences yet to discover jazz. The album's title is derived from one of Roy's childhood memories in Israel of an older blind man who often sat in front of him during Yom Kippur services. The magical aura that surrounded this man left a vivid impression and spoke to his profound belief in the importance of learning from older, experienced people in continuing to grow musically. Second Row Behind The Painter is available on Amazon and iTunes.
Second Row Behind The Painter is an album that speaks to people of all ages and cultures. Recurring melodies combined with danceable rhythms invite listeners to accompany the trio on a musical journey. The band's vision of creating a unified voice is evident throughout the album. Assaf's original compositions explore many of his artistic and personal passions: Babel is inspired by the 2006 film, Budva, is a love letter to the coastal town in Montenegro, and Con Grew is dedicated to the late Mulgrew Miller. In addition to Roy's original pieces, several inventive arrangements are seamlessly integrated into the group's larger vision, including the Israeli song Kvar Acharei Chatzot, and the late French pianist Michel Petrucciani's piece It's a Dance.

 
For more info about Roy Assaf, visit his website http://www.royassaf.com/ and http://www.cplnr.com for career planning, private lessons, group sound and much more.

Roy Assaf also appears on my album Roundtrip. Check out his burning solos on the title track, his swing on Overnight Flight and his tasteful touch on Song For Keli.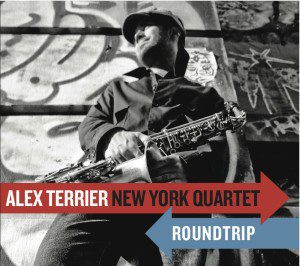 What do you think about this conversation? Feel free to share in the comment section below your thoughts and let's keep the conversation going!